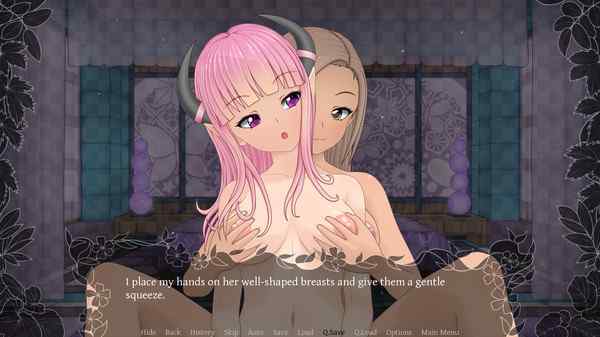 Succubus Research Diary
Arcus Plume
Version: 1.5.1
Game Info
Name: Succubus Research Diary
Version: 1.5.1
Updated: 2023-08-21 12:54:01
Sexual Orientation: Shemale Games
Language: English
Engine: Ren'Py
Platform: Windows
Genre: 2DCG, Creampie, Fantasy, Female protagonist, futa/trans, Groping, Lesbian, Management, Monster Girl, Multiple Protagonist, Oral Sex, Romance, Teasing, Transformation, Vaginal Sex
Description
The daring explorer Serena and the kindhearted succubus Nerisha meet by chance in the depths of the Underground, as Serena accidentally stumbles upon Nerisha's doorstep. After learning of each other's circumstances, they strike an unusual deal. A deal that involves the two of them having lots of sex…
Changelog
Version 1.5.1
A small post-final(?) update that fixes a bunch of typos and grammatical errors in the final content update.
Installation Guide
1. Extract and run
Developer Notes
MATURE CONTENT DESCRIPTION:
This game contains explicit depictions of consensual sex and uncensored genitals. All characters depicted are 21 years old or older.
The story takes place in a female-only fantasy world, in which all women possess the intrinsic magical ability to become temporarily "futanari," i.e., grow male genitals (note: it is possible to finish this game without playing any futanari scenes).
The adult scenes in this game are either female x female (~70%) or futanari x female (~30%).
Features (Ver. 1.5.1):
Length: 97000 words (6-8 hours)
34 unique event CGs, 307 variants
1080p resolution
Rich background story about the problematic relationship of succubi and humans
Each adult scene has 5 stages with unique conversations
Have sex and conduct research to unlock more adult scenes
Juicy sound effects and a separate volume slider for sex sounds
CG & scene gallery
Preview