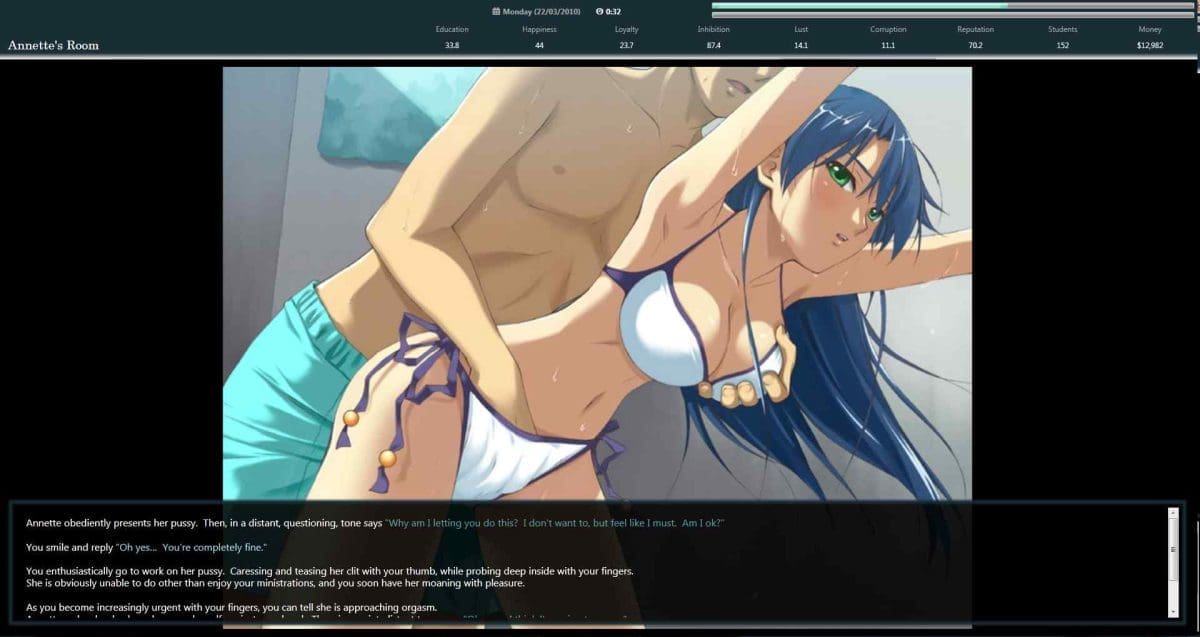 Hentai High School+
HHS+
Version: 1.10.5.5
Game Info
Name: Hentai High School+
Version: 1.10.5.5
Updated: 2023-05-24 10:06:03
Language: English
Engine: Other
Platform: Windows
Genre: 2DCG, Corruption, dating sim, Female protagonist, Futanari Protagonist, Male Protagonist, Management, Sandbox, school setting
Description
You are a new headmaster in a school. Your main task is to try to bring students up to a maximum stage of depravity. To do this you will have to convince the PTA to agree on changes that through time will help you achieve this goal. Several quests exist to help you achieve your goal.​
Changelog
Bugfixes:
– Fixed chain wierdness due to typos & tweaked things.
– Undid setting tools as special in xml, must be in VEE instead.
– Changed capacity uncapping to update daily instead of weekly.
– Typos.
Installation Guide
1. Extract and run
Developer Notes
HHS+ is a sandbox and does not really have a concrete goal or ending at the moment, so you need to make your own goals. The playthrough will end nonchalantly after 2.5 ingame years, but you will likely run out of stuff to do long before that. Just trying to get your school (and later the town) to be as corrupt as possible without getting fired is usually a good endeavor.
The current development focus is about streamlining, modernizing and balancing the gameplay of the existing events, since many of them have been contributed by many different authors of different skill levels over the years. That means that you should not expect much new official content in the upcoming release.
We consider the game as a platform and sandbox for the community to expand, and we aim to improve the customizability and modding of the game with every release. Development tools are provided with the game, though they are admittedly not well documented at the moment. Eventually the engine is also supposed to be used for entire new school management scenarios – the current Smallville scenario is also a test balloon to figure out what features are needed in general. But if you are running out of things to do in the official release, you could give some mods a shot. One of the most popular mods is Lexville, which changes many aspects of the base game. It is linked below.
If you are interested in some features of the upcoming version, you may want to take a look at the dev blog.
Preview