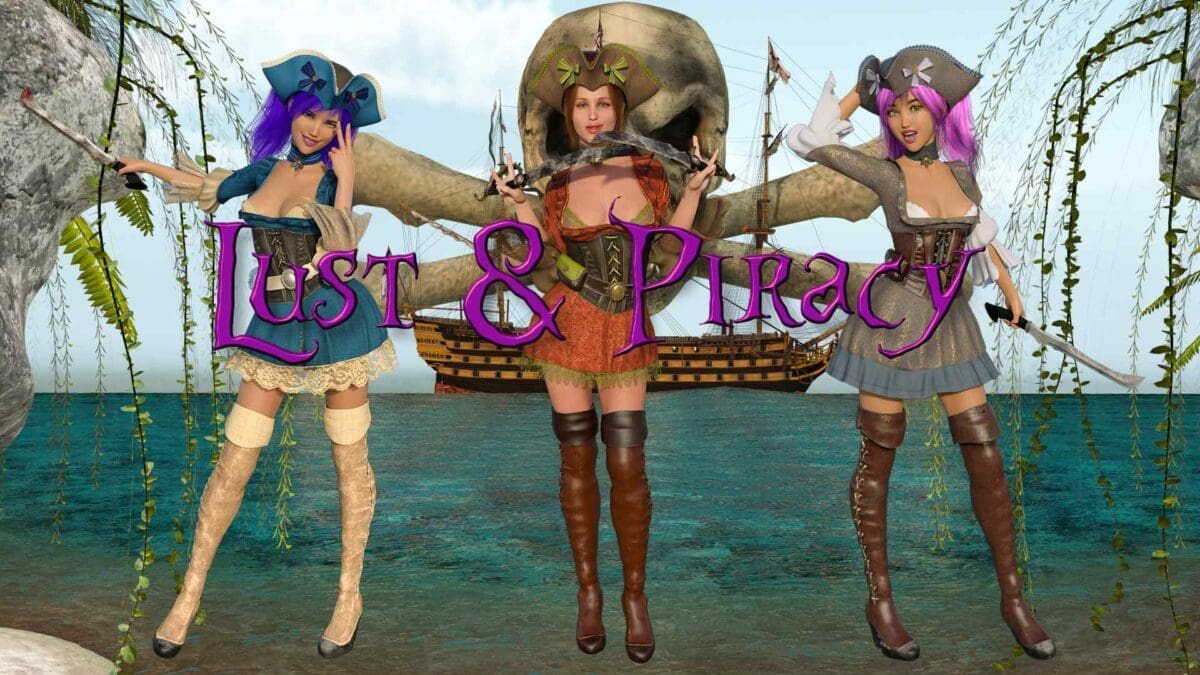 Lust & Piracy
RVNSN
Version: 0.0.3.0
Game Info
Name: Lust & Piracy
Version: 0.0.3.0
Updated: 2023-05-11 10:42:13
Sexual Orientation: Lesbian Games
Language: English
Engine: Ren'Py
Platform: Linux, MacOS, Windows
Genre: 3DCG, adventure, Animated, Fantasy, Lesbian, Male Protagonist, Oral Sex
Description
You are a university Literature Professor and a Brother in the forbidden Order of Light, who sets off on a summer research expedition about pirate lore, which becomes a much larger adventure than originally planned. Your three best students, Britta, Saga, and Signe (twins), all sexy, bright, young ladies, are accompanying you on this voyage as an optional, special topics course.
Lust & Piracy is set in a dystopian world where the Global Corporate Council (GCC) has taken over all major governments, dictating every aspect of the global society, including business, religion, laws, and the slave trade. While your intention is to avoid involvement in the depressing society at large, you will find it more and more unavoidable to play a role in humanity's struggle, as you become engaged in various activities, like smuggling and the pursuit of the ancient mysteries, including the workings of occult practices.
Aside from Britta, Saga, and Signe, you will meet and have the opportunity to become sexually and romantically involved with numerous other girls from around the world along your voyage, with some of them joining you as part of your crew.​
Changelog
v0.0.3.0
– numerous re-renders due to Daz Studio lighting changes and scene improvements
– made new ocean/waves props and shaders
– made cabins for Britta, Saga, and Signe
– changed dead end/game over choices to reincarnate before choice (while retaining negative points earned from bad choice)
– story continuation through first night back on Ránsö
– first use of spycams
– some general editing
– converted all music tracks to 112kbps to reduce file size and for better consistency
– blackjack DOES still have a bug, so save before playing it (bug leaves image(s) of cards on screen that will not disappear, but it does not affect any saves prior to encountering the bug
Installation Guide
1. Extract and run
Developer Notes
2023-05-10
Some of the work to be done for the next version includes:
– scuba training scene
– repeatable scuba diving/treasure hunting event
– plan to add 1 more action with sleeping Katya, for those who triggered Katya's 2nd sneaky visit to your cabin; with the changes in emissive lighting in Daz Studio, this will require rerendering all of the sleeping Katya content, which should not be a big deal, but if it does turn out to be, this additional action might not be included in the next version
– it is my desire to add as much content as possible, but I also want to start getting new versions out much faster; with my current schedule it is extremely unlikely that I can get on a 1 month release cycle, but I want to reduce the time between version as much as possible; most of the content in this version was done with my old computer (2015 macbook pro), including a lot of complex rerenders, and now all rendering will be done on the new computer, which is significantly more powerful; the new computer does not save time when it comes to writing, coding, or posing, but at least for rendering, one comparison image rendered to 100% on the mbp took 18.5 hours but on the new comp took 15 minutes
Preview